What is TED Alma Hair Restoration?
According to The American Hair Loss Association, hair loss affects a staggering 80 million men and women. Health First Medical Weight Loss and Skin Care provides the best hair restoration services using the TED Alma Hair restoration device. Read on to learn more about this hair loss service and why countless people worldwide turn to Alma TED to restore their hair to its former glory without invasive surgery.
Benefits of TED Alma Hair Restoration
TED Alma Hair Restoration Before and After*
The Alma hair restoration before and after images show the results possible when using the TED Alma ultrasound-based system. This treatment provides a safe, nonsurgical way to improve hair loss as seen in the before and after results. As with all hair loss treatments, results will vary per person.*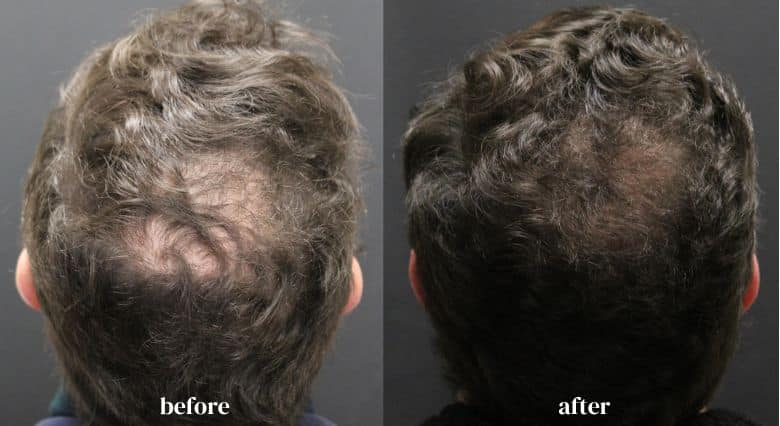 What is Hair Restoration using the TED Alma System?
The TED Alma is a powerful ultrasound-based system. It features a proprietary tip engineered with Impact Delivery TM. This method of hair restoration offers a non-invasive, non-traumatic option for addressing several hair loss concerns.
How Does Alma Hair Restoration Work?
TED is an exciting new procedure from the prestigious Alma Laser Company. Alma hair restoration is the most innovative and effective cosmetic laser. Treatments use acoustic sound waves combined with air pressure to drive a specifically formulated medication past the skin's protective layer targeting deep within the dermis. This process delivers nourishment to the hair follicles and scalp. In addition, the calibrated skin depth allows the skin to absorb the effective medications at the highest amount for optimal results.
Understanding TED Technology
TED stands for transepidermal drug delivery. This comprehensive system provides the body with the ingredients that support hair and scalp health and follicular strength. TED differs from other hair restoration methods like transplant procedures because it requires no needles, downtime, or pain.
Alma TED is the only low-frequency ultrasound system that leverages acoustic sound waves to induce optimal hair growth. In addition, the acoustic waves create gaseous bubbles in the stratum corneum. The bubbles expand the lipid bilayer, allowing medications to be fully absorbed into the body at the most optimized level. Alma hair restoration improves blood flow which is clinically proven to enhance hair growth and restoration in over 20 medical studies.
Is Ted Alma Hair Restoration Right for Me?
If you are dealing with hair loss, hair thinning, or balding, the TED Alma hair restoration treatment may be right for you. Contact Health First Medical Weight Loss and Skin Care for a medical evaluation to determine your treatment candidacy. If the TED Alma laser system is suitable for your hair loss concerns and body, our team of specialists create the perfect treatment plan to help you achieve optimal hair restoration at the most affordable price in the area.
TED Alma Hair Restoration Near Me
SCHEDULE A FREE CONSULTATION
By submitting this form you agree to be contacted via phone/text/email.
SCHEDULE A FREE CONSULTATION
By submitting this form you agree to be contacted via phone/text/email.