By submitting this form you agree to be contacted via phone/text/email.
Locations in Rancho Cucamonga, Redlands, and Hesperia, CA
Do you have some extra fullness beneath your chin? Maybe it's something you've had your whole life, something that developed over the years, or something you noticed recently. This is a condition called submental fullness, which some people refer to as "double chin."
KYBELLA® is a prescription medicine used in adults to improve the appearance and profile of moderate to severe fat below the chin (submental fat), also called "double chin." It is not known if KYBELLA® is safe and effective for the treatment of fat outside of the submental area or in children under 18 years of age.
Kybella Before and After*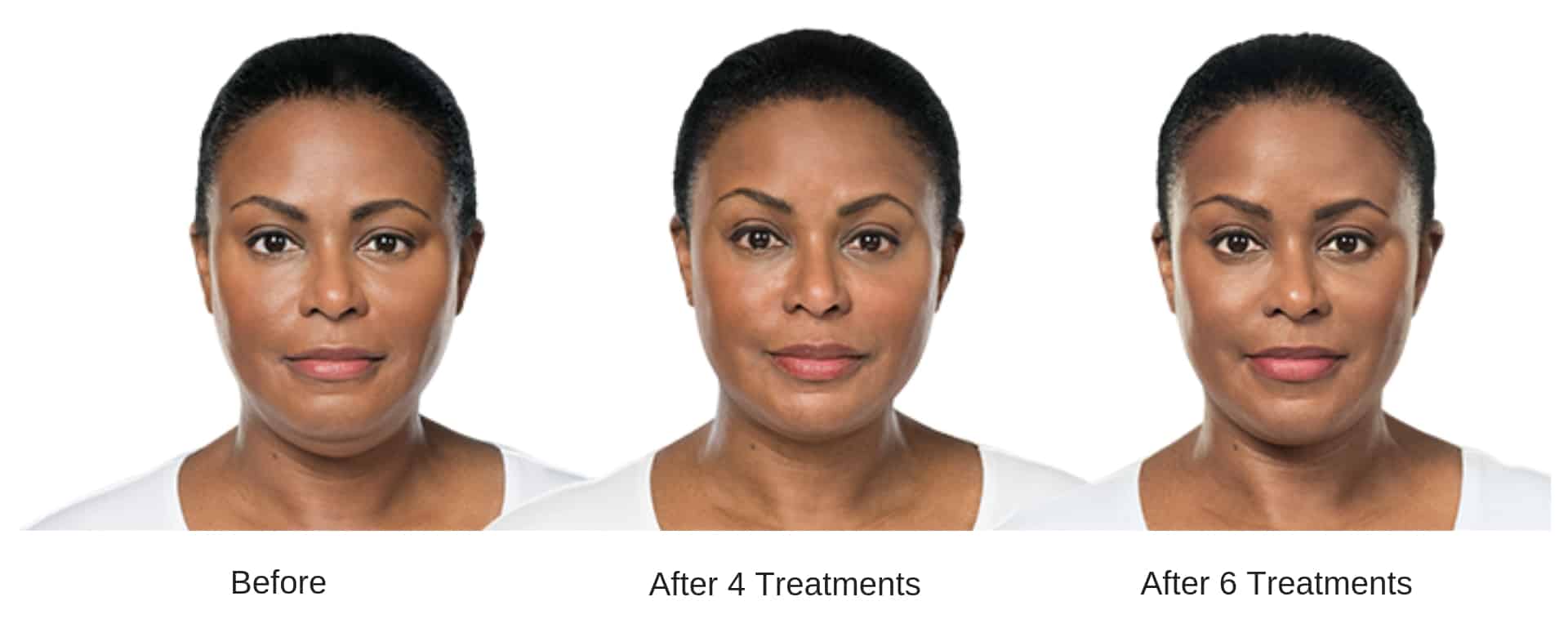 KYBELLA MAY HELP IMPROVE YOUR CHIN PROFILE
If you're interested in a nonsurgical way to reduce submental fullness, also known as double chin, KYBELLA® may be right for you. KYBELLA® is a first-of-its-kind injectable treatment for adults with submental fullness that destroys fat cells under the chin to improve your profile.
The active ingredient in KYBELLA® is synthetic deoxycholic acid. Deoxycholic acid is a naturally occurring molecule in the body that aids in the breakdown and absorption of dietary fat. When injected into the fat beneath the chin, KYBELLA® destroys fat cells, resulting in a noticeable reduction in fullness under the chin. Once destroyed, these cells can no longer store or accumulate fat, so further treatment is not expected once you reach your desired aesthetic goal.
WHAT TO EXPECT WITH KYBELLA
Before starting treatment, your healthcare specialist will examine the area under and around your chin to determine if KYBELLA® is right for you. Then, your specialist will tailor your treatment to the amount of fat under the chin and your aesthetic goals.
Treatment can only be administered by a KYBELLA®-trained healthcare specialist. At each treatment, you will receive multiple small injections under your chin, and the injection process takes about 15 to 20 minutes. The exact number of injections will depend on the amount of fat you have under your chin and your desired profile.
Since everyone's chin profile is different, the number of treatments varies from patient to patient. Your healthcare specialist will help determine how many treatment sessions you need based on the amount and distribution of your submental fat and your personal treatment goals. Each KYBELLA® treatment session is given at least 1 month apart, and you should not receive more than 6 treatments. In clinical studies, 59% of patients received 6 treatments.
After KYBELLA® treatment, you will likely have some swelling, bruising, or numbness under your chin. Be sure to inform your healthcare professional if you develop an uneven smile, facial muscle weakness, difficulty swallowing or injection site problems such as bruising, hair loss, open sores (ulcers), and damage and tissue cell-death (necrosis) around the injection site. Call your healthcare provider if you develop open sores or drainage from the treatment area.
Why Health First Medical Weight Loss & Skin Care For Kybella?
Health First Medical Weight Loss & Skin Care has a vested interest in the continued good health and appearance of all its patients. Our entire staff is comprised of individuals whom share a passion for health, helping people, weight loss, and skin care. Our office supports its Hesperia and Redlands Kybella patients before, during, and after treatments to ensure that they are healthy and happy. We are constantly striving to exceed the expectations of our patients through great results and exceptional customer service.
Kybella Near Me IN RANCHO CUCAMONGA, REDLANDS, AND HESPERIA
Diminish the double chin with a treatment tailored* to you. At Health First Medical Weight Loss & Skin Care you'll first meet and consult with our in house physician, Dr. Leonard Schulkind, MD in order to determine if Kybella is right for you. Provided you are in good health and deemed to be a candidate for the treatment, injections can begin right away. Call (760)-948-0980 or sign up online to schedule your complimentary consultation today.
By submitting this form you agree to be contacted via phone/text/email.
Disclaimer
**Results may vary. We are reputable for complete customer satisfaction for completed treatments. Before and after images reflect real results from real patients, although individual results may vary. No treatment is promised to provide permanent results. A guarantee is neither provided nor implied. Statements estimating treatment duration and the number of treatments required are based on the typical experience of our patients, however individual experiences may vary.
By submitting this form you agree to be contacted via phone/text/email.