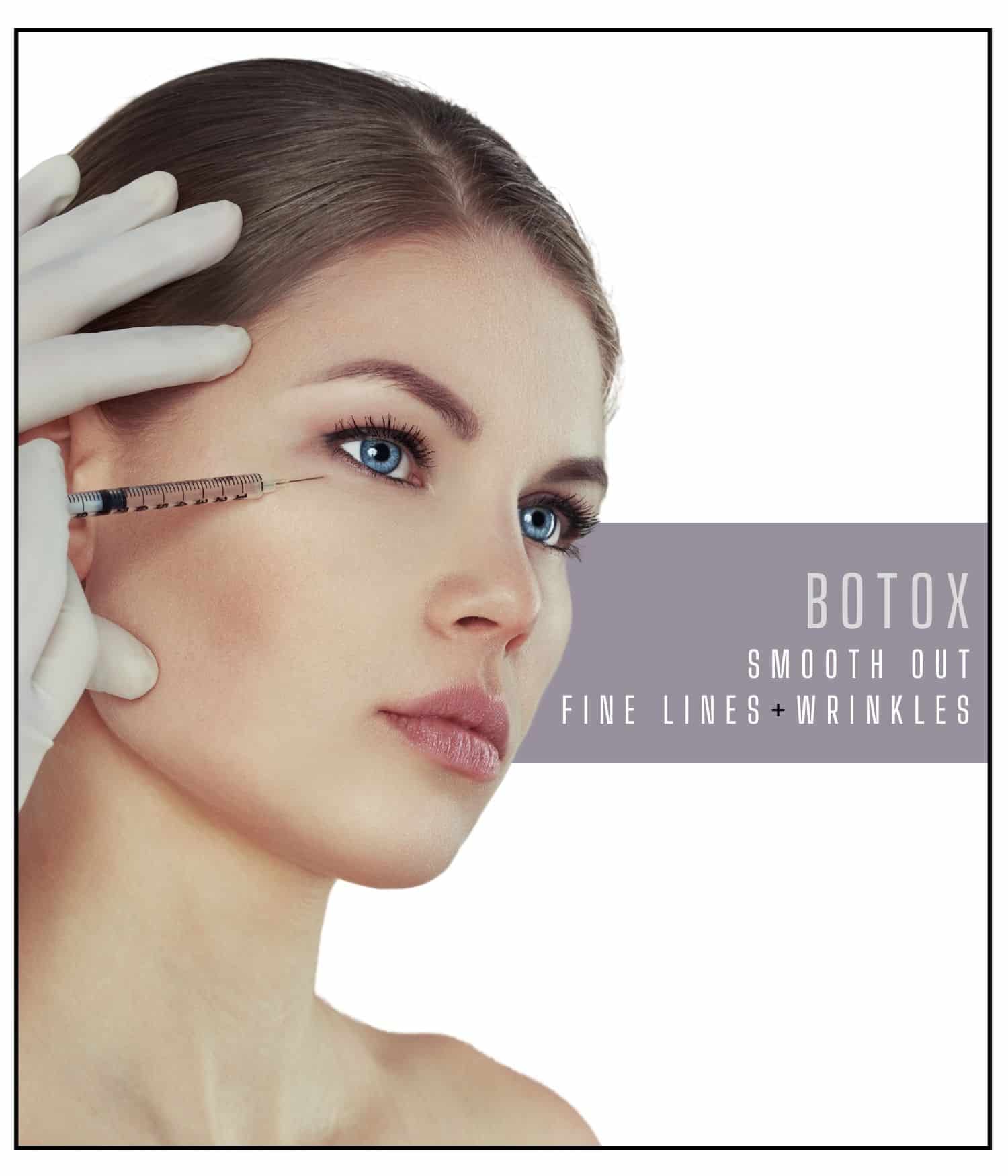 By submitting this form you agree to be contacted via phone/text/email.
Locations in Rancho Cucamonga, Redlands, and Hesperia, CA
Botox is the #1 cosmetic treatment in the world. Each year, countless individuals turn to this anti-aging solution to achieve a more youthful, rejuvenated appearance. Botox is a cosmetic injection that safely smooths out wrinkles that form around the eyes, brows, and forehead. Treatments are FDA-approved as safe and effective, painless, and require no downtime. Most importantly, when a professional performs the treatment, the results are dramatic and look natural. Best of all, the results are long-lasting.
Erase years of age with Botox cosmetic injections. Learn more about the popular treatment and find out how it can help rejuvenate your appearance. Contact Health First Medical Weight Loss and Skin Care. We are a leading provider of Botox injections in Rancho Cucamonga, Hesperia, Redlands. Call us at Rancho Cucamonga (909) 870-9040, Hesperia (760) 948-0980, Redlands (909) 335-0980 to schedule your complimentary injection consultation to learn more.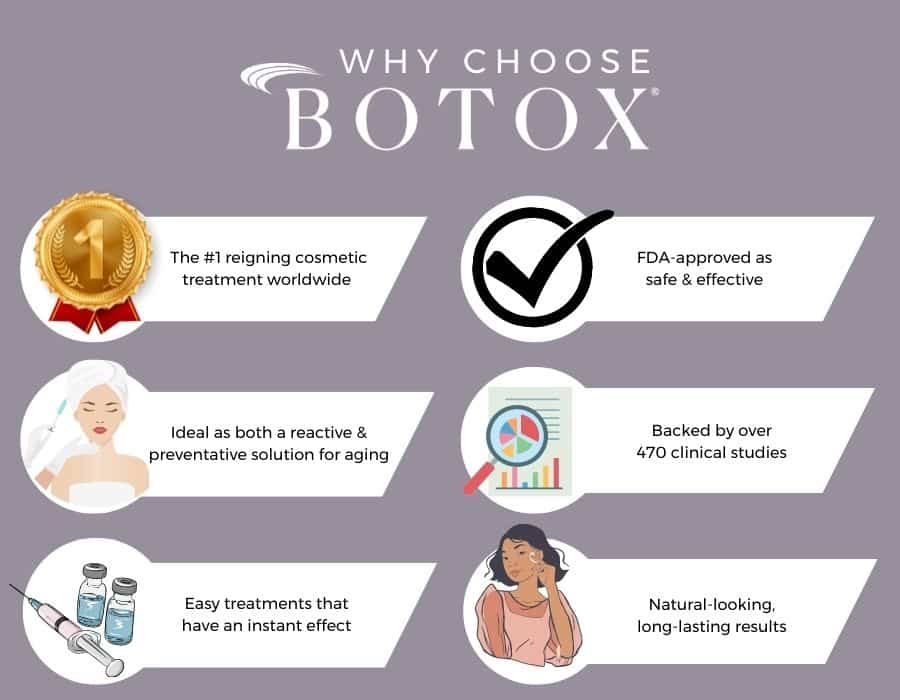 BENEFITS OF BOTOX COSMETICS
UNDERSTANDING BOTOX INJECTIONS
To truly understand how Botox works, it is helpful to understand the type of lines and wrinkles that the treatment targets. Dynamic wrinkles, known as expression lines, are deep grooves created in the skin when muscles perform repetitive motions like smiling, squinting, or frowning. The dynamic wrinkles become more noticeable starting in our 30s and accumulate in areas we are the most expressive, mainly around the eyes, brows, forehead, and mouth.
Botox is a neuromodulator derived from Botulinum Toxin Type A. The substance works by temporarily blocking the signal that tells a muscle to contract. When injected into the muscles causing dynamic wrinkles, the neuromodulator causes the muscles to relax and lengthen out. The elongated muscle allows the overlying expression line to smooth out. This action dramatically reduces the signs of aging.
With Botox injections, crow's feet, forehead wrinkles, and even frown lines are significantly softened. This helps the patients look younger and more rejuvenated.
Botox is an incredible injection capable of many treatment applications. Most popularly known as a treatment to slow the signs of aging, Botox relaxes underlying muscle contraction in order to allow the overlying skin to smooth and soften. Some of the most popular Botox treatment areas are:
Botox has also been scientifically proven to improve some medical conditions that affect millions of men and women. Other applications for Botox include treatment for lazy eye & neck spasms, improving hyperhidrosis (excessive sweating), relieving chronic migraines, reducing muscle stiffness caused by Spasticity, and more.
Botox before and after pictures show the dramatic anti-aging effects of this cosmetic injection when performed by a skilled professional. True with all cosmetic procedure, results will vary per patient.* However, the people in the Botox before and after images are real patients who achieve a genuine reduction in frown lines, crow's feet, and other dynamic wrinkles. Patients also receive an overall more youthful appearance.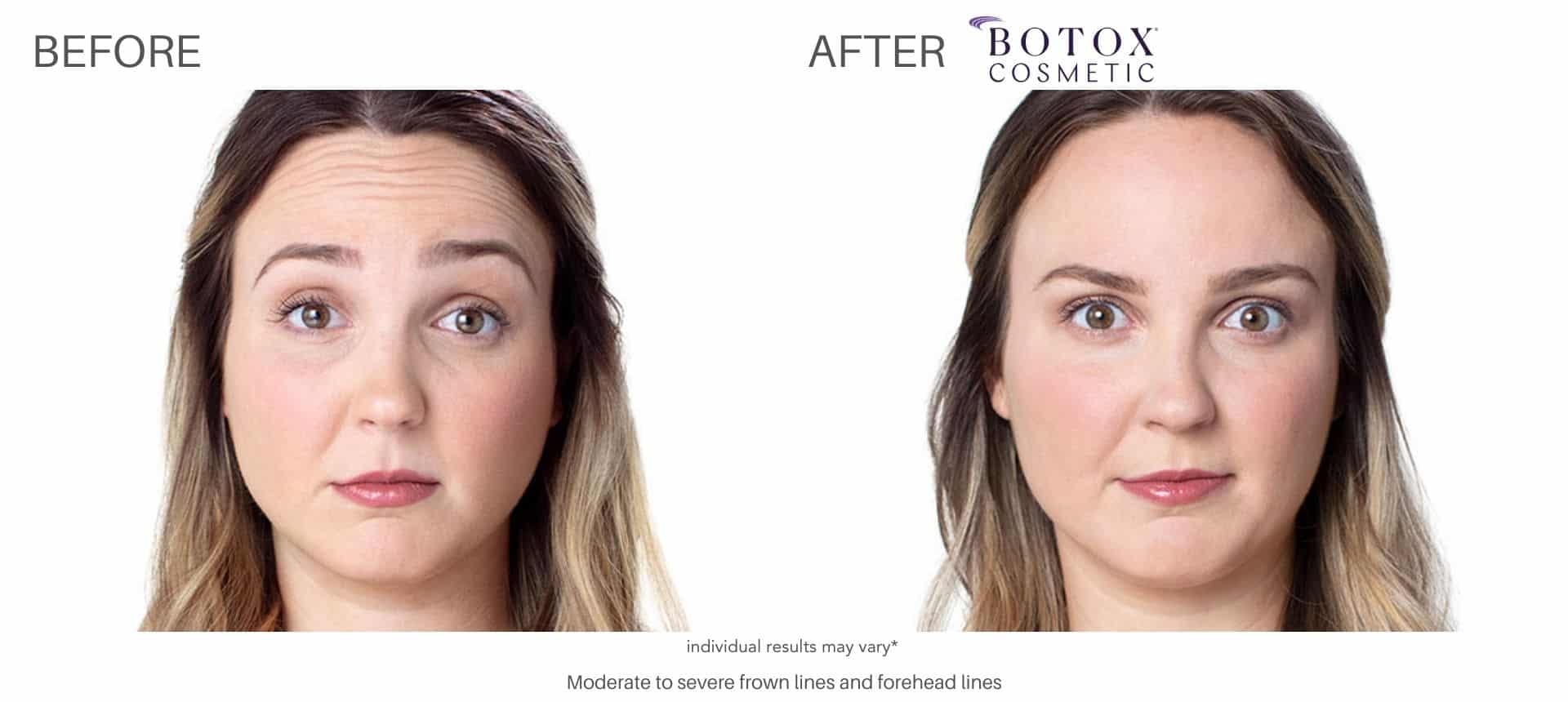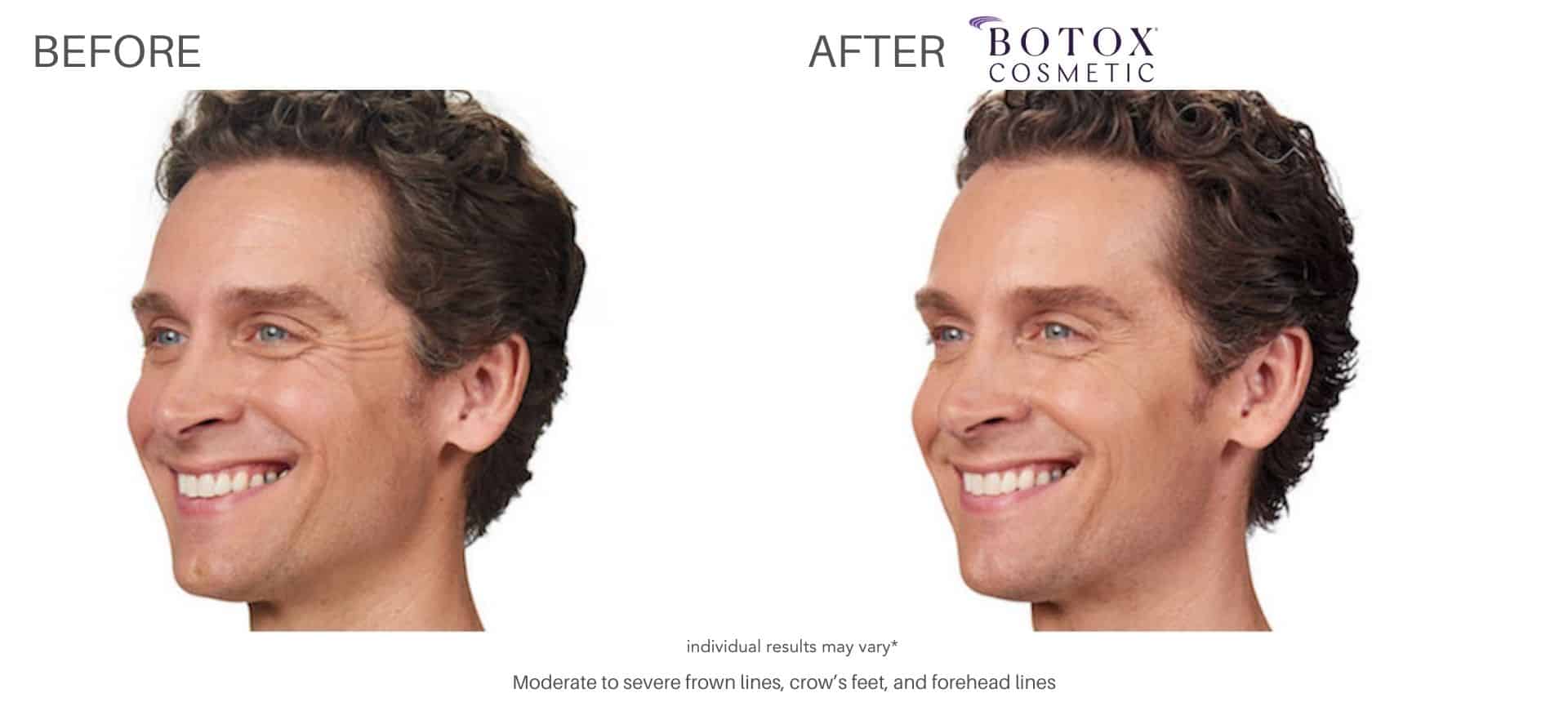 How to Get the Best Botox Results*
Botox is safe and effective. However, it is still a technique-sensitive procedure. Therefore, the person performing your injections influences the experience and results.
Potential patients living in the Hesperia, Redlands or Rancho Cucamonga area should select Health First Medical Weight Loss and Skin Care as their cosmetic injector. A medical professional performs all cosmetic injections at Health First Medical Weight Loss and Skin Care with vast experience and training with injections. Our professionals combine artistry with skill and expertise, helping them deliver natural-looking results that diminish signs of aging without compromising facial expressions.
PREVENTATIVE BOTOX TREATMENTS
Botox is primarily known throughout the world as a reactionary treatment for adults 40 and up who temporarily improve the appearance of dynamic wrinkles. Dynamic wrinkles are apparent signs of aging on the face (appearing around the eyes, mouth, lips, and more). Botox is an effective, temporary reactionary treatment. However, recent studies have led physicians to report a massive surge of younger patients opting for Botox injections.
Preventative Botox has become the #1 cosmetic treatment among men and women in their 20s and 30s. These individuals take a proactive approach to skincare by stopping dynamic wrinkles before they can even show. This popular surge of proactive action follows research demonstrating how well Botox can prevent dynamic wrinkles from forming by targeting expression muscles early in adulthood- before their repetitive contractions lead to permanent creases in overlying skin.
JAMA Dermatology published viewpoints on this phenomenon, stating, "Initiating regular treatment with a neuromodulator in an individual's 20s or 30s will have a dramatic effect on the appearance of the face as seen in the person's 40s or 50s. There will be few, if any, imprinted lines of facial expression present." The Archives of Facial Plastic Surgery posted a study supporting this claim. Researchers in the study followed identical twins over the course of a 13-year period. One twin received regular Botox injections as a young adult, the other did not. Comparison photos reveal significantly fewer frown lines, forehead wrinkles, and crow's feet in the twin who received Botox treatments. Researchers from the study concluded that; "long-term treatment with Botox can prevent the development of imprinted facial lines that are visible at rest. Botox treatment can also reduce crow's feet."
If you are curious if it's 'too early' or 'too late' for Botox treatments, speak with a Botox provider. Licensed and experienced providers will be able to answer your Botox questions and let you know if Botox is right for you in your current situation.
Botox cost varies in areas like Rancho Cucamonga and our other California locations A patient's specific treatment cost depends on factors like the number of treatment areas, the number of injections needed, and if it is used with other treatments like Hyaluronic acid fillers.
The best way to determine your Botox cost is by scheduling a complimentary consultation with Health First Medical Weight Loss and Skin Care. If cosmetic injections are right for you, we customize a treatment that achieves your aesthetics goals while fitting well within an affordable price range.
Botox is the most studied treatment in all cosmetic medicine. With more than 470 clinical studies, Botox has a long successful track record. Coupled with FDA-approved and millions of successful treatments, this cosmetic injection is considered one of the safest and most effective procedures to date.
As with any cosmetic treatment, patient results will vary. However, the majority of patients see results within 24 to 72 hours. In addition, patients can enjoy the anti-aging effects of Botox for 3-5 months after the treatment. While injections manage fine lines and wrinkles, recent studies prove Botox prevents expression lines when administered routinely. This makes Botox a popular treatment option for young adults in their 20s and 30s who want to prevent signs of aging.
WHY CHOOSE HEALTH FIRST MEDICAL WEIGHT LOSS & SKIN CARE FOR BOTOX INJECTABLES
Health First Medical Weight Loss & Skin Care is a premier provider of medical aesthetics and weight loss solutions at every location! Our team has over 24 years of experience. We are dedicated to helping you get the most out of your Botox treatments at an affordable price. Our expert injectors provide safe and effective treatments so that you can experience dramatic and transformative results.
TREAT YOURSELF TO SAFE, EFFECTIVE BOTOX IN RANCHO CUCAMONGA, CA
Reduce signs of aging and revitalize your appearance with Botox injections. Learn more about how this popular treatment can help you look more youthful by calling Health First Medical Weight Loss and Skin Care. We are a leading Botox provider in Rancho Cucamonga, CA, and Hesperia and Redlands, CA, helping countless patients achieve successful results with this anti-aging treatment.
By submitting this form you agree to be contacted via phone/text/email.
Disclaimer
**Results may vary. We are reputable for complete customer satisfaction for completed treatments. Before and after images reflect real results from real patients, although individual results may vary. No treatment is promised to provide permanent results. A guarantee is neither provided nor implied. Statements estimating treatment duration and the number of treatments required are based on the typical experience of our patients, however individual experiences may vary.
Promotions: Must purchase a minimum of 20 units and be a new client to qualify for $9/unit of Botox. Cannot be combined with other offers.
By submitting this form you agree to be contacted via phone/text/email.