HAIR RESTORATION | HAIR LOSS AWARENESS IN REDLANDS, CA
August is National Hair Loss Awareness Month. Balding, thinning hair and receding hairlines affect millions of men and women worldwide. In fact, The American Hair Loss Association estimates that more 80 million men and women suffer from hair loss. There are several surgical hair loss treatments available today. However, each procedure has downfalls like invasive surgery, scarring, lengthy recovery, and downtime.
Thankfully, some hair restoration treatments are virtually painless and, best of all, non-invasive. The Alma TED TM Hair Restoration service is non-surgical and restores a thicker, fuller head of hair without any downfalls.
Read on to learn more about Alma Ted at Health First Medical Weight Loss & Skin Care.
BENEFITS OF HAIR RESTORATION WITH ALMA TED
 Non-invasive hair loss treatment
 No downtime needed
 Treats androgenic alopecia (male pattern baldness/female pattern baldness)
 Noticeable results in one treatment
 Convenient 20–25-minute procedure
 Comfortable hair restoration experience


ALMA TED HAIR RESTORATION BEFORE AND AFTER*
The Alma Ted hair restoration before and after pictures depict real results from actual patients. As with any hair loss procedure, results will vary per person.* However, everyone achieves noticeably more thick, full hair with less visible bald spots or hair thinning.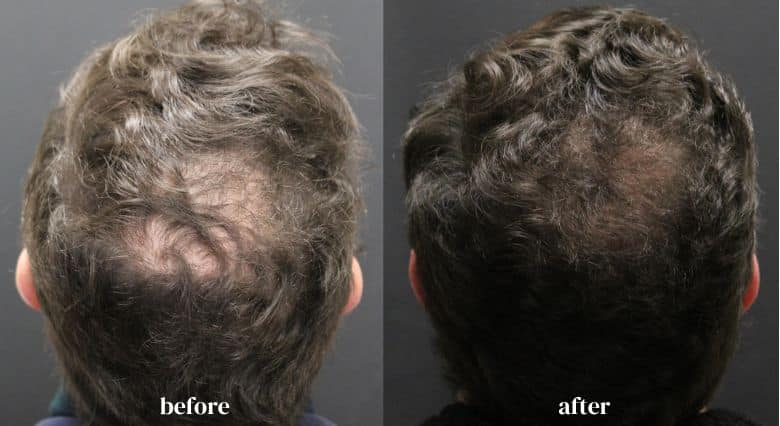 WHAT IS ALMA TED HAIR RESTORATION?
Alma Ted treatments use an Ultra-sound-based system with a proprietary tip equipped with Impact Delivery TM. This prcoedure offers a non-invasive, non-traumatic option for addressing common hair loss concerns, including the most common, androgenic alopecia.
Combined with a topical Hair Care Formula, it promotes blood flow to the scalp, resulting in stronger, thicker, and visibly fuller hair. Moreover, it offers these benefits without the discomfort and shedding associated with other popular hair loss treatments and procedures.
WHAT CAUSES ANDROGENIC ALOPECIA?
The most common type of hair loss is androgenic alopecia, commonly known as female pattern baldness or male pattern baldness. Androgenic Alopecia is typically genetically determined. This type of hair loss affects hair growth in two ways:
First, it shortens the hair growth cycle's anagen phase (the growing stage).
Second, it causes follicular miniaturization or the shrinking of the hair follicle. This leads to a thinner, short hair shaft.
For men, androgenic alopecia presents itself as a receding hairline or hair loss from the top and front of the scalp. It affects one in three men over the age of 30 and half of all men over 50. For women, androgenic alopecia manifests as the thinning of hair. Hair thinning or hair loss affects women any time after they hit puberty. However, it is more prevalent in women over the age of 50, with 2 out of 3 postmenopausal women reporting bald spots or thinning hair.
HOW MANY HAIR RESTORATION TREATMENTS DO I NEED?*
Most patients experience minor results after just one treatment with the Alma TED. However, it is recommended to have at least three treatments one month apart to see optimal hair growth results. As with all hair loss treatments, experiences may vary.*
The cost of Alma TED varies per person. The best way to receive a personal hair restoration quote is to schedule a consultation with Health First Medical Weight Loss and Skin Care. They have two locations to serve their clients better: Redlands and Hesperia, CA also serving the surrounding areas in the San Bernadino area.
During your consultation, you interact with the experts on hair restoration to determine if Alma TED is right for you. If it is, they create the perfect treatment plan you need for achieving dramatic hair growth. We strive to provide the best hair restoration experiences at the most affordable rates in the area.
National Hair Loss Awareness month lets those struggling with balding, receding hair lines, or thinning hair know they are not alone. Millions of people suffer daily from hair loss concerns. Thankfully, Alma TED hair restoration can help. Learn more about this revolutionary treatment by contacting Health First Medical Weight Loss & Skin Care today for a consultation. Call our Redlands, CA, location at (909) 335-0980, or Hesperia, CA, location at (760) 948-0980.
SCHEDULE A FREE CONSULTATION
By submitting this form you agree to be contacted via phone/text/email.
SCHEDULE A FREE CONSULTATION
By submitting this form you agree to be contacted via phone/text/email.