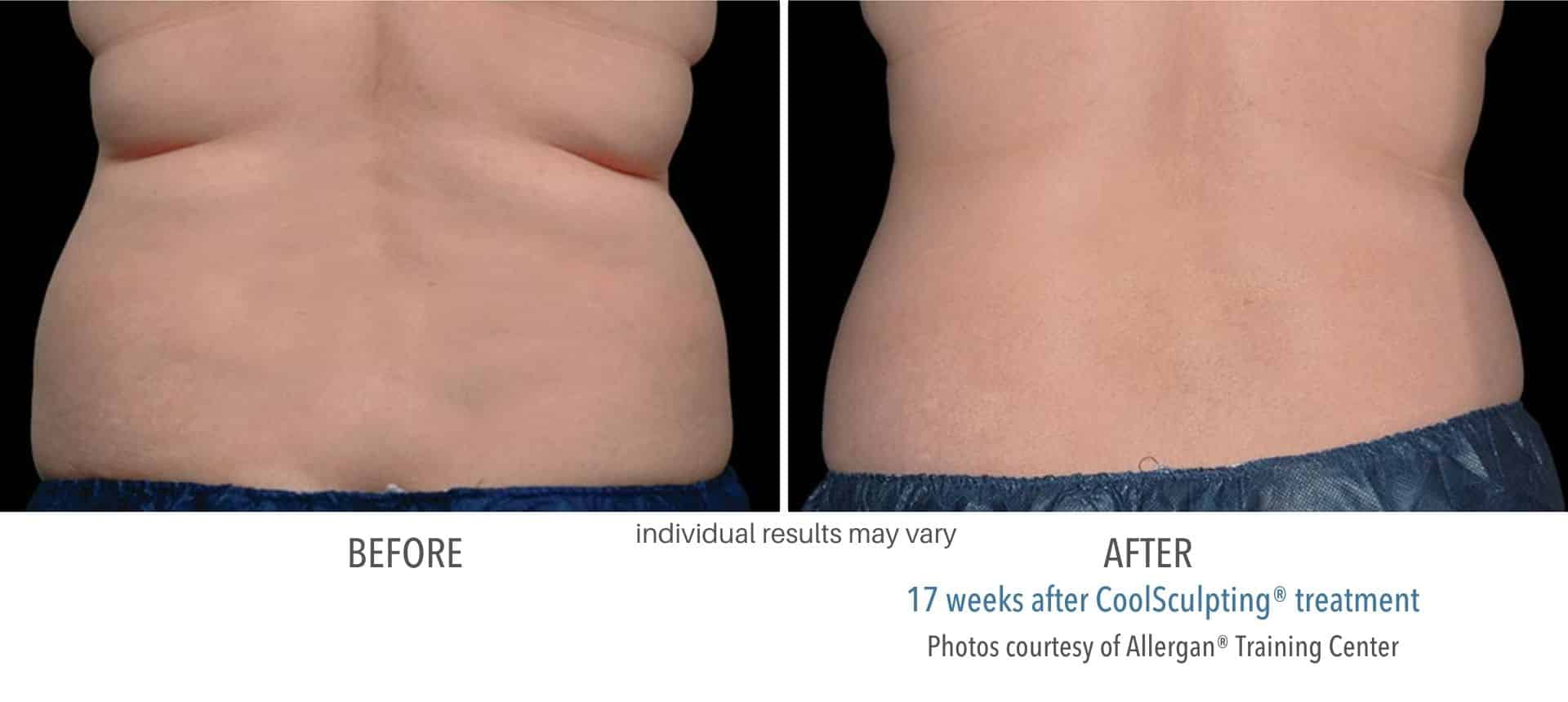 CoolSculpting Before and after Images |Results of Real Patients
CoolSculpting before and after images showcase how effectively fat freezing reduces stubborn bulges. The pics also explain why this novel body shaping procedure is the most popular non-invasive fat reduction treatment globally. Continue reading to see real patient results and discover if CoolSculpting is right for you.
Benefits of CoolSculpting at Health First Medical Weight Loss and Skin Care
Reduce resistant fat cells
Safe and effective
Best nonsurgical alternative to liposuction
Targets problem areas like belly fat, back fat, love handles, double chins, and more
Virtually painless
Minimal to no downtime required
Non-invasive
Results are natural and long-lasting
Defines muscles and sculpts attractive curves
COOLSCULPTING BEFORE AND AFTER IMAGES*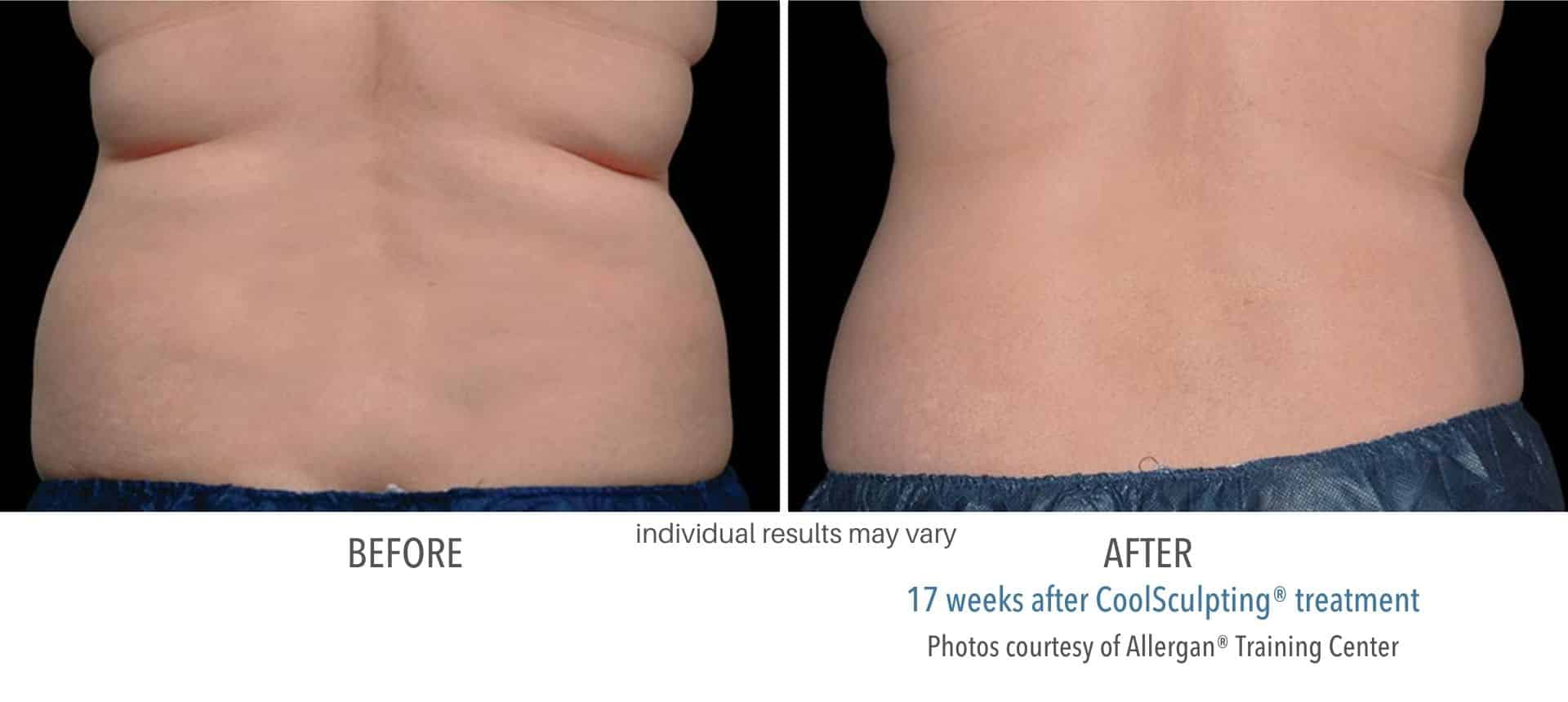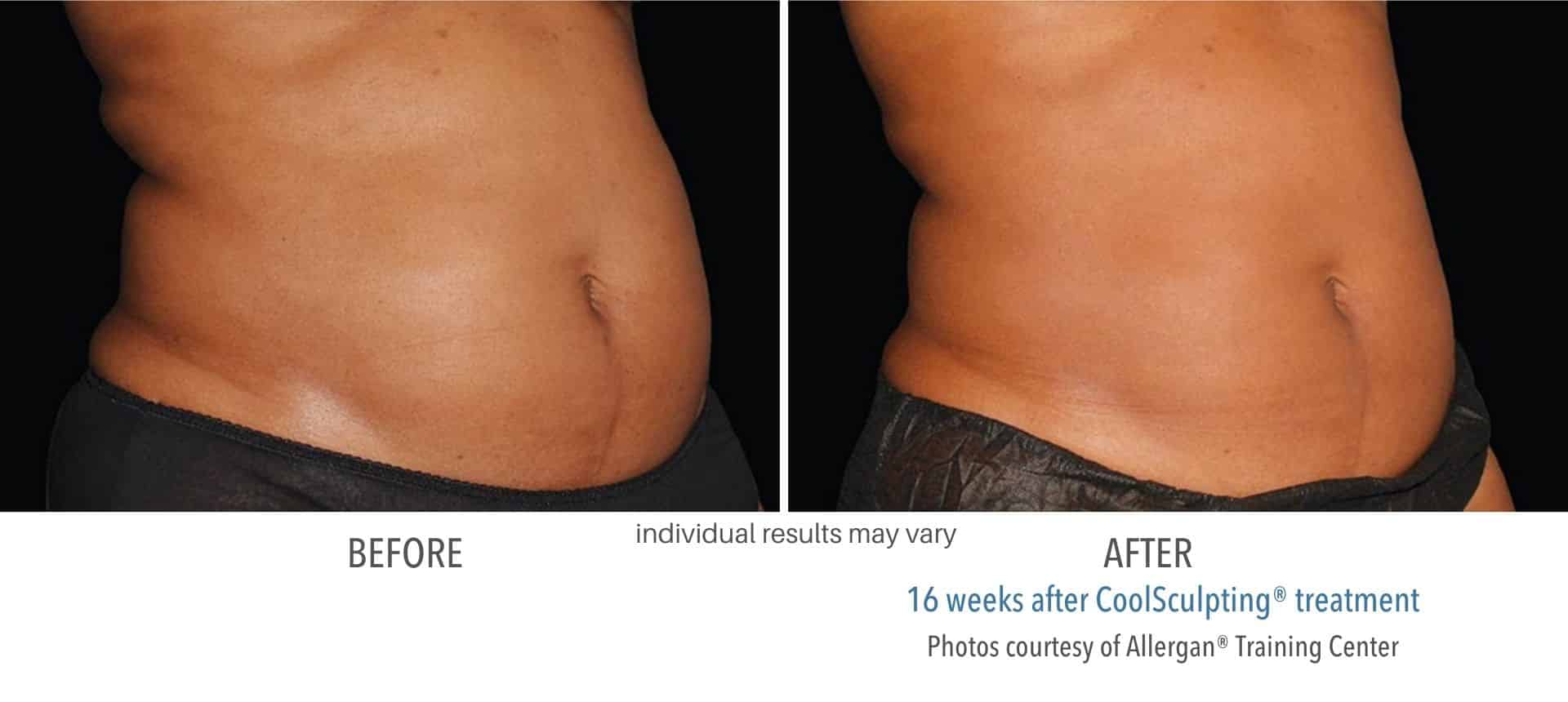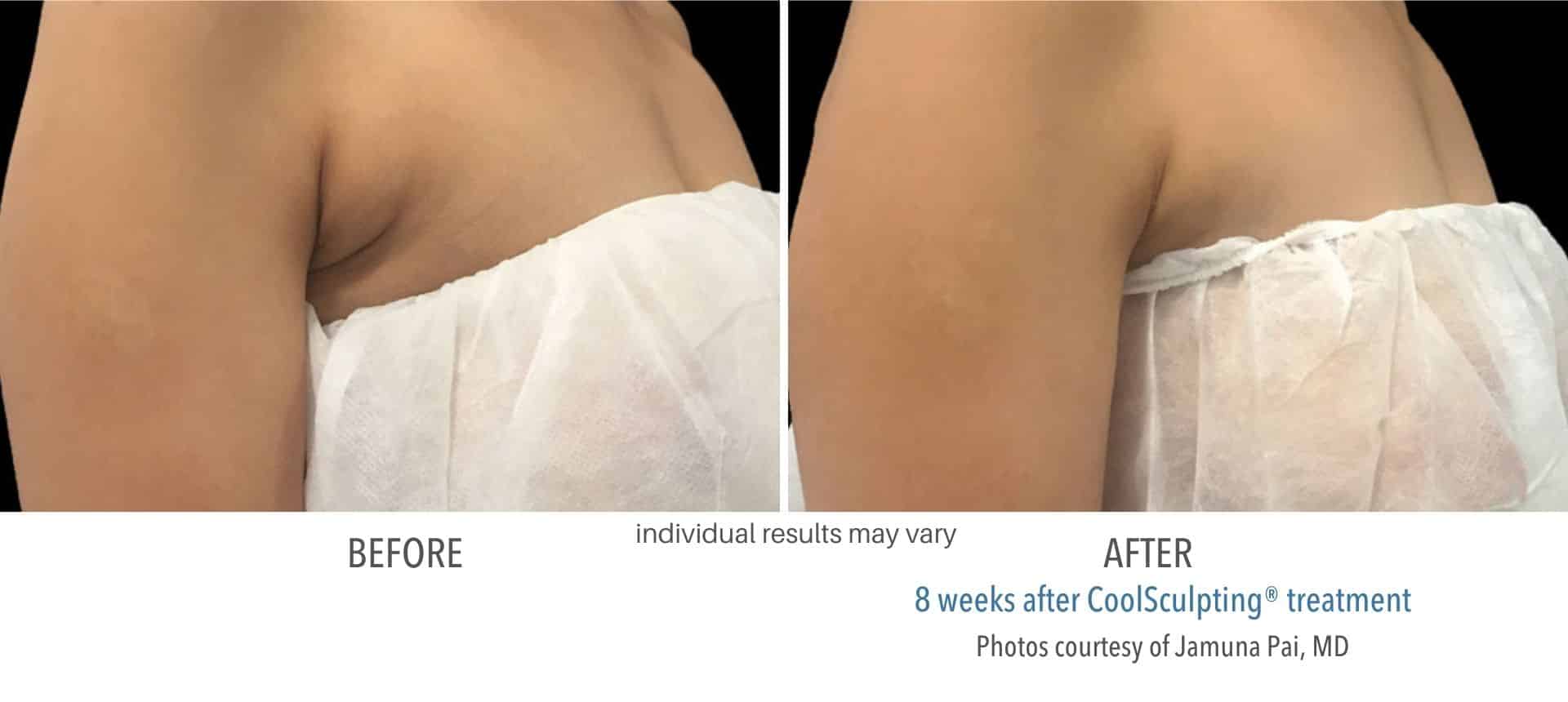 The CoolSculpting before and after pics in the above slide show depict genuine patients and showcase real results. However, as with all cosmetic treatments, results may vary.*
CoolSculpting Before and After | How Does CoolSculpting Work?
To fully appreciate the impressive results of Coolsculpting before and after pictures, it helps to understand the treatment process. CoolSculpting uses an advanced cooling technology, Cryolipolysis, to target fat cells below the skin. CoolSculpting exposes subcutaneous fat cells to a calibrated cooling responsible for "freezing" a portion of the cell without injuring the skin or surrounding tissues. When the fat cells are frozen, they crystalize and become brittle. This action causes their cell membrane to rupture, triggering apoptosis or cell death. After treatment, the lymphatic system metabolizes the dead fat cells and processes them out of the body as a form of waste.
COOLSCULPTING TREATMENT AREAS
CoolSculpting before and after images demonstrate the versatility of the fat freezing treatment. A wide range of applicators permits your technician to target nearly any bulge found on the body. Popular treatment areas include:
The abdomen
The flanks
The thighs
The upper arms
The Submental region (neck and chin fat)
The back and armpits
HOW TO RECEIVE GREAT BEFORE AND AFTER RESULTS
For the best CoolSculpting before and after outcomes, consider these two highly influential factors.
COOL SCULPTING IS A SKILL-DEPENDENT TREATMENT. Like other cosmetic procedures, CoolSculpting is skill sensitive. This means that the specialist conducting the treatment influences your experience and results.
When selecting a provider for CoolSculpting in the San Bernadino area, shop by reputation, not price. Ask about the facility's background and experience in performing the fat freezing treatment.  Select the most qualified, most experienced provider in your area. This will help guarantee stellar before and after results.
GREAT COOLSCULPTING RESULTS REQUIRE GOOD CANDIDATES The fat freezing procedure is not intended for all people. To get stellar before and after results, it is essential to ensure you are a qualified candidate for CoolSculpting. CoolSculpting is designed for healthy adults within 30 pounds of their ideal weight, who regularly exercise but still suffer from bulges of isolated fat deposits that resist diet and exercise.
CoolSculpting is not a weight-loss treatment. It is not ideal for individuals who are significantly overweight.
The most efficient method for establishing your candidacy for CoolSculpting is to book a complimentary consultation with a trustworthy provider.
Are CoolSculpting Before and After Results Permanent?
CoolSculpting before and after images show a dramatic fat reduction. However, many potential patients want to know about the longevity of these results. CoolSculpting results are long-lasting. Unlike regular weight loss programs that shrink fat cells, Cryolipolysis physically metabolizes fat cells and removes them from the body. These cells can never return or grow back. They can never re-expand. They are gone for good. While excessive weight gain may obscure CoolSculpting results, if patients continue to live a healthy, active life, their results can be long-term.
CoolSculpting Risks and Side Effects
CoolSculpting is primarily known for its high safety profile. Not only does it have FDA clearance and countless scientific studies to back its safety and efficacy. But CoolSculpting also has over 500 treatments done daily around the globe successfully.
There is a chance that some patients may experience mild redness, tenderness, bruising, or even swelling at the treatment area site. These symptoms are common due to the natural immune response CoolSculpting triggers. If a patient experiences these symptoms, they are mild and will go away on their own.
The best way to avoid any chance of risks or side effects is to select the most reputable professional in your area.
CoolSculpting Before and After Cost
CoolSculpting cost varies per patient. Since this treatment can be entirely customized to fit the needs of each individual patient, the price per treatment plan significantly varies. Several factors affect treatment cost, such as the number of cooling sessions needed, the size and shape of applicators used, and the number of treatment areas selected. New patient specials or promotions can also help save money on CoolSculpting. The best way to receive a detailed quote on price is by scheduling a complimentary consultation.
WHY CHOOSE THE HEALTH FIRST MEDICAL WEIGHT LOSS & SKIN CARE?
CoolSculpting is a technique dependent treatment. Therefore, knowledgeable patients choose HEALTH FIRST MEDICAL WEIGHT LOSS & SKIN CARE, the premier provider of CoolSculpting in San Bernadino. Leading the area in body contouring treatments, Health First offers unparalleled experience and feel proud to serve the the communities of Hesperia and Redlands, CA.
Ready for Your Own CoolSculpting Before and After Transformation?
CoolSculpting works! So, take the first step towards securing your own before and after transformation by scheduling a free consultation with HEALTH FIRST MEDICAL WEIGHT LOSS & SKIN CARE. Reach out online by completing the form below or call 760-948-0980 for the Hesperia  area or 909-335-0980 for Redlands.
SCHEDULE A FREE CONSULTATION
By submitting this form you agree to be contacted via phone/text/email.
SCHEDULE A FREE CONSULTATION
By submitting this form you agree to be contacted via phone/text/email.